How TOPP Works
Ohio State's Tuition Option Payment Plan (TOPP) allows students and their families to divide the cost of tuition, housing, and fees into installment payments - four installments for autumn/spring semesters and three installments for summer term. To participate, students must sign up for TOPP each semester and pay a non-refundable $30 enrollment fee.
The first TOPP installment is due on the initial payment due date, usually 7 days prior to the first day of classes. Remaining payments are due approximately every 30 days thereafter (exact dates are shared at time of enrollment).
 

How to Enroll
1.  Log into My Buckeye Link via https://buckeyelink.osu.edu.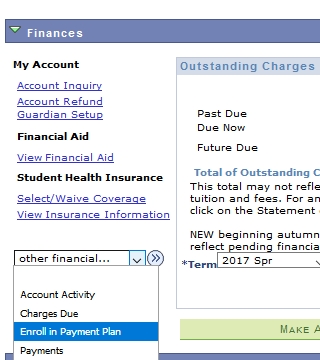 2.  In the Other Financial… drop-down menu in the Finances section, select Enroll in Payment Plan.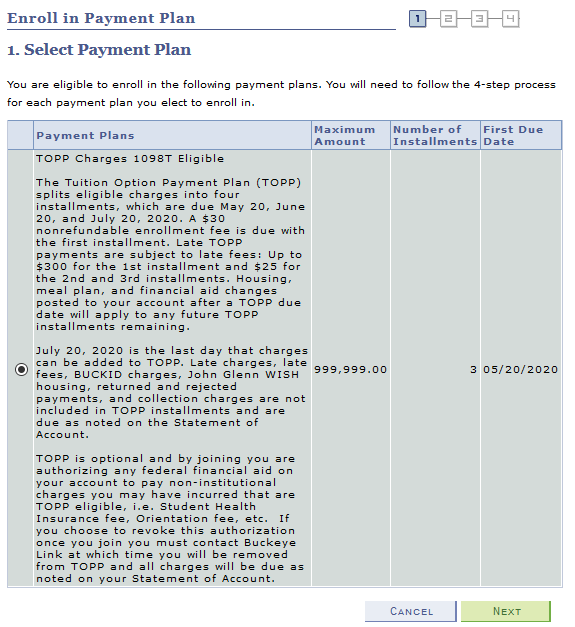 3.  Select the payment plan option and review the details; then click

.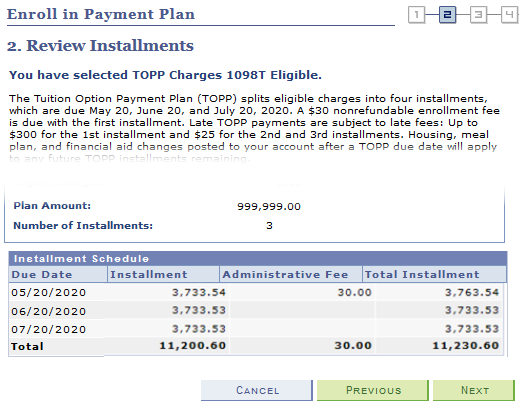 4.  Review the installment schedule, then click

.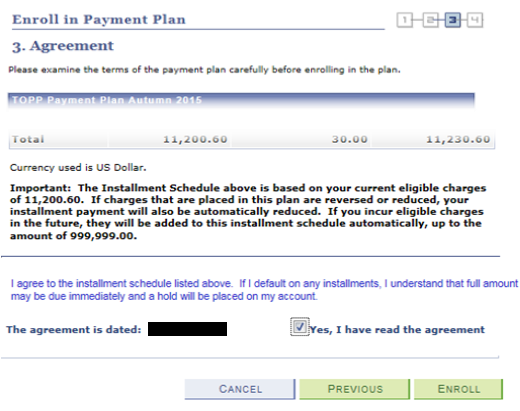 5.  Review the terms and conditions and total plan amount plus the administrative fee; then click

.

6.  Review the confirmation page.
TOPP Terms and Conditions
All TOPP installments must be paid on or before the due date.

Payments must be manually initiated prior to each due date; they will not auto-deduct from any saved bank account previously used to pay tuition and fees.

Failure to pay the first installment by the assigned due date will result in late fees ($200, increasing to $300 for failure to pay by the 2nd Friday of classes) and hold.

Failure to pay a subsequent installment by the listed due date will result in late fees and a hold.
Charges Ineligible to Enroll in TOPP
Late fees (including fees assessed on behalf of University Housing and Dining Services)

BUCKID charges

John Glenn WISH housing (part of the Washington Academic Internship Program)

Returned and rejected payments

Collection charges
Charges Added After a TOPP Due Date
Housing, meal plan, and financial aid changes posted to a student's account after a TOPP due date will apply evenly to any remaining future TOPP installments.
Last modified: Nov 18, 2020